The health trends and the financial impacts on the chronically ill are worsening at a significant rate. This is the recurring theme of the Center for Studying Health System Change's April 2009 tracking report,
Financial and Health Burdens of Chronic Conditions Grow
.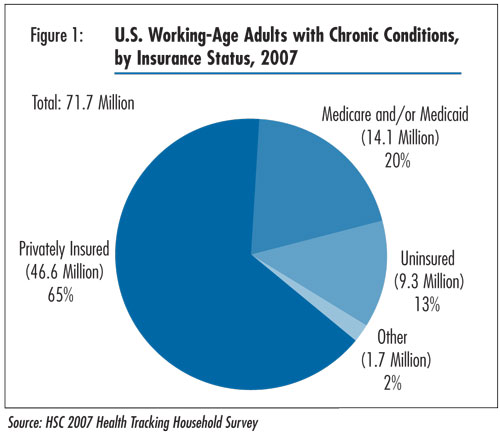 The study focused on the working-age population in the US. Key findings include:
Increases in chronic conditions:

72 million people have at least one chronic condition, representing an increase from 34 to 39 percent of the working-age population since 2001.

Increases in obesity:

Obesity (body mass of 30+) has risen from 25 to 29 percent. 55 percent of the obese have at least one chronic condition, much greater than the 36 percent of those who are 'only' overweight.

Decreases in private coverage:

Private health insurance for those with chronic conditions has shrunk from 71 percent (2001) to 65 percent.

Increasing problems with medical bills:

An increasing number (20 million) of the chronically ill had difficulty paying their medical bills. Even controlling for the increasing financial challenges for everyone, the chronically ill were twice as likely to have families with medical bill problems.


Challenges for the insured as well:

"Among those who are privately insured and low income, 37 percent—more than 2 million people—reported family medical bill problems, underscoring the limitations of private insurance alone in protecting people from the high costs of treating chronic conditions..."

Limited access to care linked to trouble with medical bills:

Of the chronically ill patients in families with problems paying medical bills, 25% didn't receive needed care and 50% delayed needed care.
The report concludes that most recent economic collapse is sure to have made these statistics even worse (study results were based on 2007 data).
Health Affairs recently reported that 75% of the $2.2 trillion in U.S. healthcare costs "
goes to paying the bills for chronic illness
". For more on chronic care and the technology implications, see
Chronic Care: Wagner's Chronic Care Model
.