AHRQ reports on "Innovations in Using Health IT for Chronic Disease Management" across a portfolio of health IT applications including clinical decision support, health information exchange, telehealth and hospital information systems. "We found no dominant technology application...
The portfolio demonstrates that a variety of health IT applications have the potential to transform the quality and safety of care for some of the Nation's most severely ill patients.
Despite several challenges associated with developing and implementing health IT for chronic disease management, information technology can be used to improve clinical processes. Technology also can facilitate better knowledge sharing and support improved communication and coordination across care settings."
NCVHS hears from leaders on the definition of meaningful use including
physicians
, the
Markle Foundation
(and 60 supporting organizations), Agency for Healthcare Research and Quality (
AHRQ
), College of Healthcare Information Management Executives (
CHIME
), American Medical Informatics Association (
AMIA
),
HIMSS
and a broad range of
other industry leaders
. Carolyn Clancy, AHRQ Director, says that healthcare organizations should prepare now by using
health registries to manage the health information of patients with chronic diseases
.
Wall Street Journal reports on an "
affordable fix for modernizing medical records
", the VA's Vista system.
Dr. David Blumenthal, National Coordinator for Health IT, believes that healthcare technology has not advanced sufficiently "
when left exclusively to the private sector, so there is a public role
."
American Public Media's Markeplace reports that
investment in "health care information technology is holding its own
. Investors are following the $20 billion in President Obama's stimulus plan to upgrade and modernize health records."
The Use of Health IT in Crisis Control
interviews Dr. Nathaniel Hupert, Director of The Preparedness Modeling Unit for The Centers for Disease Control and Prevention (CDC) and Associate Professor of public health and medicine at Weill Cornell Medical College.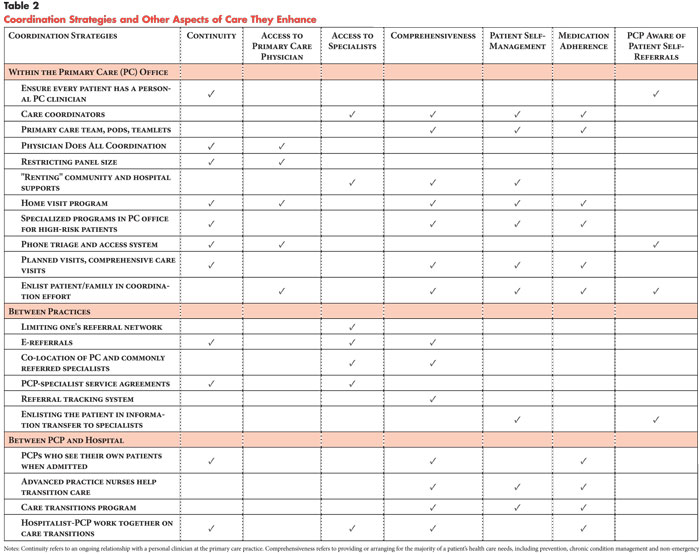 Coordination of Care by Primary Care Practices: Strategies, Lessons and Implications
reports that "while there was no single recipe for coordination ... some cross-cutting lessons were identified, such as the value of a commitment to interpersonal continuity of care as a foundation for coordination." Medical home initiatives "if aligned with payment incentives ... have the potential to increase quality and satisfaction among patients and providers by helping to move the health care delivery system toward better coordinated care."
Archives of Internal Medicine reports that "
computerized medication reconciliation tool and process redesign were associated with a decrease in unintentional medication discrepancies with potential for patient harm
. Software integration issues are likely important for successful implementation of computerized medication reconciliation tools."
Health Care Policy and Marketplace Review has maintained a laser focus on the need for healthcare reform to result in real savings. In his latest post, Bob Laszewski contends that "
health care reform means fixing the system so we stop spending/wasting so much more than every other industrial nation on health care
thereby making our system more affordable and effective." In earlier posts, he referenced two December 2008 CBO reports on the potential savings associated with various reform programs:
Key Issues in Analyzing Major Health Insurance Proposals
and
Budget Options Volume 1 Health Care
. "If the CBO just rolls over and lets Congress make up excuses just to spend more for health care we will not have reform--we will only have a bigger fiscal disaster on our hands. How do you reform entitlements by pretending?"
The AMA announces initial partner agreements to provide a secure AMA portal offering a variety of practice management services.
Computer modeling predicts the spread of swine flu
. One of the algorithms is rooted in human contact models derived from
Where's George?
which tracks the passage of one dollar bills from person to person.
HealthMap provides a
global disease alert map, including tracking of swine